Here's a short melody that uses all the notes from the Altered Scale (the 7th mode of the Melodic Minor Scale).  While chord-scale theory can be a valuable part of learning to improvise, finding an actual melody, not just the a scale, really helps bring out the true aural color of the chord.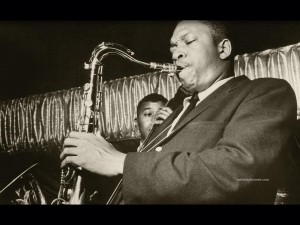 This melody starts by outlining the shell of the dominant 7th (root, b7, 3) and than touches upon each of the altered tensions, #5, #11, #9 and b9.   First work on singing the melody slowly over a drone to make sure you have a strong aural image of the material, than play it on your instrument through the keys.
As with all the material on the blog, I recommend memorizing each idea.  I feel even memorizing one idea in one key is more valuable than playing through all the material sight reading.
As a variation, try mixing up the order of the tensions and/or the shell voicing.  You may stumble across many sounds and shapes that you like.
~Purchase my book: Modern Jazz Vocabulary Vol. 1~
~Purchase my book: Modern Jazz Vocabulary Vol. 2~
~Purchase my book: Modern Jazz Vocabulary Vol. 1~