Events is the follow up album to our first 3-ish's release, Baobab (2009). Events features new original compositions by all three band members and a few re-inventions of some familiar standards.
The group recorded nearly 20 tunes over 2 days in the studio and we narrowed down the takes to our 12 favorites.  You can click on the photo below to purchase or preview the CD.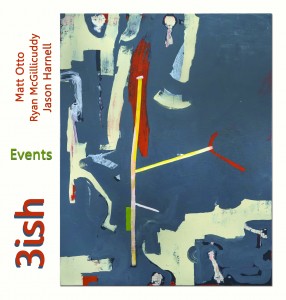 Here's a track from Events you can listen to;  this is "Two Days" by our bassist Ryan McGillicuddy:
The CD recording features:
Jason Harnell on drums.
Ryan McGillicuddy on bass
Matt Otto on sax.
Here's a video from our CD release show.
Here's a PDF for the song we are playing:
"Smile Notes" – a contrafact based on "Old Milestones" – the melody is written in 3/4 against the 4/4 harmonic rhythm.