Having taught hundreds of Skype lessons over the last seven years, I've come to believe that Skype is a great way to both teach and learn from the comfort of your own home. I charge  30$ for a 30 minute lesson, and interested people who are at at an intermediate or advanced level can email me to set up a lesson at: ottojazz@gmail.com.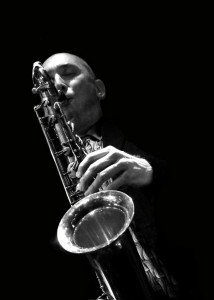 During a Skype lesson I will listen to you play/improvise for a duration and determine a course of study based on what I hear.
Some of my common teaching methods include:
Singing and visualizing melodies and harmonies over drones.
Playing ideas through keys.
Memorizing tunes and chord progressions by ear.
Displacing melodies rhythmically.
Working with a metronome with both hand drums and instruments.
Singing and playing scales, ideas, melodies, voicings, arpeggios, and solos.
Transcribing, singing, memorizing and playing solos through keys.
Diatonic harmony – sub-dominants, substitution and modulation .
Analysis of standard progressions and songs.
Chord-scale theory.
Synthetic scale analysis and application for both improvisation and composition.
Long tones, Over tones, Diaphragmatic Breathing.
Establishing an effective daily routine.
Writing contra-facts and solo etudes.
Composition.
Interval recognition.
Harmonic recognition.
Singing and playing over progressions and songs.
Learning to play by ear.
Working on rhythmic feel.
Developing a vocabulary.
Working towards performance and recording.
Dealing with and working with RSI and Carpal Tunnel Syndrome.
Working with performance anxiety and stage fright.
I'm also willing to work on specific personal goals that an individual may have.
I'm happy to work with people who play any instrument.
Best,
Matt Otto
Reviews:
"It is very rare to find in one person such a deep knowledge of music and discipline together with respect and  patience.
Matt is an awesome teacher and Musician, you can hear yourself achieving new useful skills for improvising and for music in general, from lesson to lesson.
He has been a true inspiration for me as he is a very disciplined and gifted musician which has not forgotten what the process of learning is, that is why he is so respectful and encouraging.
This five words: "Remember to Listen and Relax" that he keeps reminding all the time, have been to me, together with all his musical suggestions, more important than everything else in my musical journey.
I would recommend Matt to anyone who wants to improve his/her music knowledge, both beginners and advanced."
~ Giuseppe "Joe" Murgia – Alto Sax,  Italy/England
"Matt is an awesome teacher.  He has helped me improve every aspect of my playing.  I've studied with many other teachers, but he has given me a wealth of new practice ideas that will serve me for years.  He's also patient and a pleasure to interact with."
~ Chuck Hersch – Tenor Sax,  Shaker Heights, OH
"Matt Otto is an exceptional educator who is in possession of a quality rarely found in teaching. Often times excellent players struggle with the ability to empower their students with the tools necessary to play and improvise. Students are given recipes, but are not really taught how to cook.
Matt gives you the recipes and then shows you how to and where to use them to create meaningful music.  Of all the professions invented by humankind, education is by far the most noble. Matt Otto is one Great and Noble Educator."
~ Timothy Corpus – Tenor Sax, Seattle Washington
"Matt Otto is an incredibly gifted teacher. I consider myself so fortunate to be able to study and work with him and I couldn't recommend him highly enough. His calm demeanor and thorough approach create an atmosphere thats comfortable and conducive to healthy growth and learning. Matt is a great listener, as you all must know having heard him play, he gives me space to express my interests and goals and then guides and informs me how best to actualize them, with resounding success. Though I have only studied with him for six months, applying his methodology has transformed my approach to my instrument and music, and reaffirmed my identity as musical creator. "
~Vangel Athanas – Alto Sax, Charlotte, NC.
"For me, Matt is one of the top jazz saxophonist all over the world, but, beyond that, he has the rare ability to really understand the process of learning the jazz idiom and he is able to show you, clearly, how to do it for yourself. He is the best teacher that i've ever met and i can not recommend Matt's teaching skills enough. Book him right now and he'll take you to the next level in music!"
~ Xose Miguelez – tenor saxophone, Gz, Spain
"Matt Otto is a gifted teacher and a warm-hearted person. I've been fortunate enough to study with him and have applied his
teachings to many facets of music-making, from sound production and ear training to improv and composition. I can't recommend him
highly enough. He's approachable, friendly, and has a casual way of making difficult concepts easy. His methods and philosophy
are geared toward developing the whole musician and guiding the student in finding their musical "voice", which has been a joy
to experience first-hand! He's been a great mentor and I would recommend him to any musician interested in improving the quality
of their playing in a way that is true to the self."
~Peter Gilli – tenor sax, Rhode Island
I have been studying with Matt for over six months now. With his guidance, I've been able to move past several musical obstacles allowing me to set new goals as an artist and saxophonist. The bar has been raised, so to speak. His teaching effortlessly encourages growth within the idiom of jazz improvisation, while still maintaining clear awareness of the student as an artist in their own right. Simply put, my lessons with Matt have allowed me to deepen my relationship with music directly.
~Jason Moore – tenor sax, North Carolina www.jasonjmoore.com
"I studied with Matt Otto from 2000 to 2006 and during that time, Matt was a true mentor. In those years of study, I developed an understanding of elemental aspects of sound, rhythm, and musicality that I felt ownership of. Matt stressed the importance of developing a personal and instinctive command of the instrument, and I credit his teaching style for enabling me to mature from student to artist. Beyond teaching, Matt produced and engineered a recording of mine, which helped me win a competitive artist's grant from UC Berkeley — the funding from this grant payed for my travels and first year expenses moving from California to New York City where I live today. Learning from Matt and being influenced by him has been a great gift that continues to be a part of who I am both musically and personally."
~Kenneth Auyeung – Alto Sax, Brooklyn, NYC.
"Studying with Matt is the best. He really taught me how to sing through my instrument, which completely transformed my approach to music."
~Ryan Seward – Guitar, Los Angeles, CA.
"After years of going around in circles in my practice, lessons with Matt finally got me to break through the blocks and rise above the plateaus. His positive, encouraging approach to ear training and teaching jazz improvisation have given me the tools and confidence necessary for any measure of success I've reached. In short, Matt has basically taught me everything I know."
~ Josh Welchez – Trumpet, Los Angeles, CA.
"I have only two regrets about taking lessons with Matt Otto. 1. That when my friends recommended I take lessons with Matt, I had done it sooner and 2. That I didn't take more advantage of him when he lived in town. Matt is easily the best teacher I've ever had regardless of instrument. I've never seen anyone with a more clear approach and was so quickly able to get to the my weaknesses. Another one of Matt's strengths was giving you a way to work on those issues that were really easy to implement. I don't think I could have asked for more from a teacher.
With Matt's help I was able to accepted to the Master's degree program at Cal Arts for Jazz Studies, a feat which I never could have done without his guidance. For that I'll always be indebted to him." (and Sallie Mae).
~ Scott Cummings – Drums, Los Angeles, CA.
"I recently started playing saxophone again after a 10 year break. However I was dissatisfied, as many of the issues that bothered me about my playing years ago, where still present such as: solo's that lacked thematic direction and did not 'tell a story', an over-reliance on 'hot licks' and a disconnect between my fingers and ears' . I decided I needed to get some help If I was going to make any progress. After reading Matt's blog and hearing him play I started taking lesson's earlier this year and it has led to massive changes in my approach to improvisation and level of musicality. Here are some of the things we worked on: Slow motion improvisation and using thematic development. Learning tunes inside out by singing the melody and bass, voice leading, shell & drop 2 voicing's. Technical problems with air support and tonguing. The modes and chords of the Harmonic and Melodic minor scales. Getting a stronger time feel by using the metronome on the offbeat's and singing along with Bird solo's. Transcribing what I sing in order to strengthen the connection from ear to instrument. With Matt's help I finally feel that I am starting to 'Play what I hear and sing thru the horn' and I am very happy that I chose Matt for Skype lessons as he is a fantastic teacher, musician and a genuinely nice guy."
~Robert Gillespi – tenor sax , Edinburgh, Scotland
I had the honor of taking lessons with Matt Otto for an extended period of time beginning in 2008. In addition to being one of my favorite musicians on the planet, Matt is among greatest teachers I have ever had. His approach to learning is focused on the student developing his/her own unique individual voice. He made me aware of how to be honest in my playing. Many of the exercises we did involved singing over a drone (Example: Charlie Parker head). Often I would sing over the drone and transcribe what I sang. This opened up my ear immensely and is one of the best ear training concepts I have learned. I began realizing that the instrument is just an extension of my voice and we worked towards bringing out what I really hearing. Matt knows the balance of being positive and encouraging, yet challenging and demanding. I always left our lessons motivated and excited. Matt is a treasure to the jazz community.
~ Dr. Brandon Bernstein – Guitar, Los Angeles, CA.
"Matt Otto has been an incredible mentor and teacher who's passion for the music and articulate way of teaching has not only changed the way I play, but also the way I listen and experience music as well."
~Blake Deibal – Tenor Sax, Kansas City, MO.
"I have studied with Matt Otto and utilized the resources of his music blog for several years. In my case, as with his other students, he carefully analyzed my level of playing and developed an action plan for improving both my technical skill and my understanding of jazz improvisation and underlying harmonic structure. In addition to his vast knowledge of music and technical expertise, Matt has a very generous spirit that inspires his students to put in the work necessary to reach their individual goals. For players of all levels who wish to improve their jazz improvisation skills, I highly recommend studying with Matt."
~Frank Martinez – Tenor Saxophone, Pico Rivera, CA.
"Matt Otto played a huge role in helping me understand and feel comfortable with jazz harmony and improvisation. He broke things down in a way that made sense to me as a singer and a musician. I'm grateful to have had him as a teacher!"
~Sara Gazarek – Vocalist, Los Angeles, CA.
"I was drawn to Matt as a teacher because of my love for his music. I sought him out, hopeful that his teaching would match the depth of his music. I was not disappointed. My lessons with Matt have been musically transformational. In my experience, he is a rare breed. His ability to get right at the heart of a musician's strengths and weaknesses is truly amazing. He was able to quickly match up my goals with a plan to overcome my weaknesses, in some cases using 'outside the box' methods to deal with my stubborness. He is an incredibly patient and generous person which translates into how he deals with his students. You could not ask for a better mentor on your musical journey."
~Jeff Stocks – Guitar, Kansas City, MO.
"Studying with Matt has been a truly eye opening experience for me. Within minutes of our first lesson, he recognized the holes in my playing and set out a concrete plan on addressing them; the time I have spent studying with him has been the most rewarding and fruitful of my learning career. The lessons posted on his blog have given me enough material for me to work on for years to come. I cannot recommend Matt's teaching abilities enough! Not to mention, he's a pretty cool guy."
~Miles Freeman – Tenor Saxophone, Los Angeles, CA.