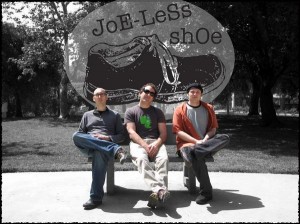 From their name to their instrumentation to their imaginative, sonic landscapes, JoE-LeSs shOe brings the unconventional to the Los Angeles jazz scene. Formed in 2002, the trio consists of Matt Otto on sax, Jamie Rosenn on guitar and Jason Harnell on drums. With a focus on original music that ranges from quirky freebop, to lush harmonies to Zen-like drones, these three have forged a distinctly modern and original sound that can be compared to the Dave Douglas' Tiny Bell Trio, the Paul Motian trio, Jim Black's AlasNoAxis and Cuong Vu's projects.
~Click Here to Buy at CD Baby~
Jason Harnell, son of grammy award winning pianist/composer Joe Harnell, was given his first set of drums at the age of six by jazz drumming legend Louie Bellson. He has toured with Maynard Ferguson and is a mainstay on the LA jazz scene.
Jamie Rosenn performs regularly in the organ trio Option 3, teaches at a number of colleges in the LA area and has studied with such luminaries as Jimmy Giuffre, Charlie Haden, and George Russell (all major influences of JoE-LeSs shOe).
The group's unusual name takes was taken not as a reference to the White Sox player but rather from their close associate, organist and pianist Joe Bagg, who introduced the three. All of the members have ongoing projects with Bagg leaving this group indeed "Joe-less". In fact, Bagg contributed a photo of his shoe that can be seen on the cover of JoE-LeSs shOe's self-titled CD.
In JoE-LeSs shOe's six years of performing, they have brought their distinctive sounds to Los Angeles clubs like the Baked Potato, Cafe Metropol, Club Tropical, Juanitas, the Blue Whale and was a featured act at the Idylwild Jazz Festival. The group's self titled debut CD was released in late 2007 and consists of ten original compositions by Harnell, Otto and Rosenn.