I had the wonderful opportunity to meet composer, educator and tenor saxophonist Jerry Bergonzi at the KU Jazz Festival last weekend.  The KU faculty and students did big band arrangements of a few of his tunes and, not surprisingly, Jerry played brilliantly all night.  Outside of his great playing, I was taken by his down to earth attitude, honesty and free approach to improvising.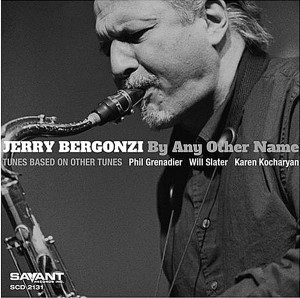 Among jazz musicians, Jerry Bergonzi is a household name, both as a player and educator.  I'd imagine there are very few living saxophonists who haven't gotten way into his recording Standard Gonz (Blue Note 1991) or any number of his 30+ recordings as a leader.   I remember back in the 80's while at studying at Berklee, there was a two waiting list to study privately with Jerry and tenor players would photo copy pages of lines and patterns from his students and pass them around like sacred texts.  Bergonzi's book Pentatonics is right up there with Jerry Coker's Patterns for Jazz , and I'm also particularly fond of his book Melodic Rhythms.
After the KU jazz festival concert Jerry was gracious enough to sit in with our quartet and play a few tunes.  Below is a recording of the group playing Benny Golson's Stablemates.  I've transcribed a few of Jerry's easier ideas to analyze and put through the keys.  His rhythmic approach, sound and overall flow reflects years of experience that's impossible to emulate but by looking carefully at a few of his ideas you get a glimpse of the depth of knowledge and experience he commands.
~ Enjoy!
Stablemates from the last A of the melody: Jerry Bergonzi Tenor, Jeff Harshbarger Bass, TJ Martley Keys, Brandon Draper Drums, Matt Otto Tenor sax (2nd solo at 3:12).
Although there are countless great phrases in Jerry's solo, I picked just 2 simple ones that I connected with that are both sophisticated and creative, rhythmic, original and but not too hard to begin to integrate into an improvised vocabulary.   Also, for a fantastic archive of Bergonzi's original compositions, visit Jeff Ellwood's site.
The first short idea is at 1:22 – a great ii-7 V7 melody Jerry plays for one bar on the bridge.  It's really easy and yet sounds great and so I was immediately drawn to it.  Simply 2 quarter notes on the minor 7th chord (the natural 11 and the b7) to a half note on the V7 chord (the natural 9).
Here's a midi file and a PDF of the exercise I came up with (chromatically descending ii-7 V7 through the keys starting with concert C-7 , F7).
The second idea is at 1:46 – a really nice melody over a Major 7th chord.  This phrase outlines the #11 the natural 5, the #5 the 13 (and the major 7th).
Here's a midi file and a PDF of the exercise I came with (Major 7th chords around the circle of 4ths starting with concert C-7).
.