This is Vol.2 of the Drum and Bass, Roots and Rhythm "play along" which is designed for both practicing and teaching.  Vol. 1 has been well received and I thought one in 7/4 would be a nice addition.  I've been using Drones and Pedals along with a metronome for years but now I've started using these play along's for the same basic purposes. The bass player Jeff Harshbarger plays one note (root) for the duration of each exercise while Brian Steever keeps time on the drums. This allows you to practice anything you'd like over the root; a harmony, singing, visualizing, scales, tunes, lines, melodies, or free improvisation. I've been using these tracks for a while now,  and I find them much more stimulating and inspiring than using a drone alone.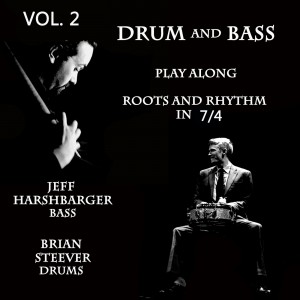 Volume 2 is all in 7/4 at tempos 80, 120 and 200 bpm and includes roots in every key. There are 29 tracks in both straight and swing feels and also a few tracks of drums alone from 120 to 240 bpm.  I've included a sample track below that you can try out. You can click on the photo to purchase the mp3s from CD baby or send me a modest Donation with a message and I'll email you a link directly.
~Enjoy!
Here's a free track you can try out;  Swing at 120 Bpm in 7 over a B pedal:
~Click Here To Make A Donation. Thank You!~!
~Purchase my book: Modern Jazz Vocabulary Vol. 2~